At UCI, nearly 250 faculty members from nearly every school on campus are engaged with CALIT2 in one form or another. Some reside in the building, conducting research and working with students and post-docs, while others maintain home department locations, collaborating on projects with peers from various disciplines and/or accessing the state-of-the-art facilities and labs. Labs and facilities of the CALIT2 Building are managed by an individual faculty lead but shared with others. In addition, many professors seek cubicle space for their graduate students, so they can be co-located in the building.
"CALIT2 has not only been vital because of its facilities and staff support, but also because it serves as "neutral turf" for launching collaborative projects that bring computer science and engineering together with the social, biological, and physical sciences," explains Carter Butts, professor of sociology. "As an institute founded on the principle of leveraging the information technology revolution to support new, cross-disciplinary research initiatives, CALIT2 has been a natural institutional and intellectual "home base" from which to manage my portfolio."
For researchers who embrace multidisciplinary collaborations, CALIT2 serves as the catalyst for introduction, research matchmaking, and shared goals and resources. Many of our affiliates have indicated that without CALIT2 they would not have met each other and embarked on joint research projects. The following are ways in which faculty can engage with the institute.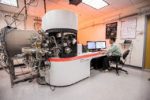 One of the most-cited forms of engagement that is unique to CALIT2 is its shared-use facilities. Of the 244 faculty affiliates, nearly 100 of them are users. The clean rooms, microscopy and materials characterization labs, and makerspaces (FabWorks and MicroSemi Innovation labs) lower the barrier for researchers to access state-of-the-art tools for innovative solutions. "My research program has made extensive use of the LEXI facility in CALIT2," says Jenny Yang, assistant professor in chemistry. "One of our research projects is focused on chemically modifying electrode surfaces with molecular precursors. The XPS is invaluable to characterizing our modified surfaces. The technical staff have also been tremendously helpful in assisting with experiments and data analysis."

In an ongoing effort to advance research and foster entrepreneurial endeavors, CALIT2 several years ago added more infrastructure and technical services for faculty seeking proof-of-concept support, fast prototyping and system-integration assistance. In addition to the institute's rapid manufacturing center and clean room facilities, an expanded technical staff provides hardware and software design and development, and integration expertise for academic and startup companies' early-phase, pilot projects. "I have been working in collaboration with the CALIT2 team for several years. We have co-developed a hearing aid that can directly drive the tympanic membrane. It underwent human testing over the past two years. It is currently being further developed to potentially reach market," explains Dr. Hamid Djalilian, an otolaryngologist at UCI Medical Center.
Startup Company Incubator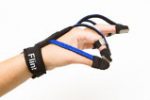 Faculty and campus entrepreneurs seeking to launch companies have benefited from the opening of CALIT2's TechPortal, a pre-incubator that houses and assists young startups still in the process of formulating business plans, developing prototypes, establishing a team, soliciting investments and preparing for market readiness. TechPortal has been home to 17 startups, which have collectively raised more than $15M in seed funding and many of which have gained strong footholds in their respective markets. Hiperwall Inc. and Flint Rehab are two standouts. The former is a spinoff by researchers who received NSF funding to develop in CALIT2 for research purposes the original HIPerWall display system with a distributed visualization software architecture; the latter is a startup lead by two Ph.D. alums who worked in the CALIT2 eHealth Collaboratory developing the MusicGlove for stroke patient recovery, later moving into TechPortal. "CALIT2's incubator was critical for the success of Flint Rehab to move from a lab bench to the marketplace," says David Reinkensmeyer, the UCI professor who mentored the two graduate students. "I am so grateful that the students had the support of CALIT2 as they worked to fulfil their dreams of starting a business." Flint Rehab, now 15 employees strong, has sold more than 6,000 MusicGloves and has expanded its product line to include several more novel physical therapy recovery devices. Hiperwall Inc. has more than 30 employees, and worldwide sales and distribution success.
Student Programs and Fellowships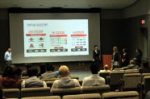 Faculty also engage with CALIT2 through its student research programs and fellowships. The Summer Undergraduate Research Fellowships in Internet of Things (SURF-IoT) immerses UCI undergrads in a 10-week, hands-on research experience. In collaboration with UCI's UROP, faculty submit project proposals, outlining the role of the undergraduate. Interested students apply, ranking their top three choices, then faculty review their project applicants and make a selection. Over the course of the summer, a weekly lunch-and-learn program allows participating SURF-IoT faculty members to present their research projects and share with the group what their undergraduate fellow is working on.
Also, in partnership with UROP, CALIT2 launched the two-quarter-long Multidisciplinary Design Program (MDP) a few years ago, and it has become a very popular way to engage faculty and students (undergraduate and graduate) across the disciplines in design teams. These teams are co-mentored by at least two faculty mentors from different schools or departments. Faculty submit innovative and creative design projects related to the areas of energy, the environment, healthcare and culture; after students apply, teams are formed. Each selected team, along with its faculty mentors, creates an itemized budget, with CALIT2 providing two-thirds of the funded amount for each project. Over the winter and spring quarters, the selected teams incorporate their multidisciplinary knowledge and skills in developing a solid design of the proposed project. "During the previous five years, my participation with CALIT2 has been with the Multidisciplinary Design Program," writes Bernard Choi, associate professor in the Beckman Laser Institute. "I have a current instrumentation project that will benefit greatly from students with diverse technical skills, and the CALIT2-UROP program has proven to be a great way to identify talented students who have continued to work in my laboratory."
A graduate fellowship program funded by the Broadcom Foundation and administered by CALIT2 Director G.P. Li enables engineering faculty to recruit and support the best students in the research field of IOT sensor technology and smart manufacturing. Annually, the foundation co-hosts a multiday workshop in the spring for the fellows to share their research with each other and collaborate with graduate students from universities in the Asian Pacific region to identify future opportunities to work together.
Essential Business and Operation Services
Essential business services are provided by CALIT2 staff for affiliated programs, faculty and researchers. CALIT2 business office staff provide the following proposal services for faculty and others affiliated with the institute: assistance with grant writing and proposal submission, setup of sales and service agreements and budget preparation. In addition, all post-award administration, from assignment and setup of the accounts to closeout, are provided, including financial reporting to funding agencies, PCS reports, cost-sharing tracking, no-cost extensions, etc. CALIT2's communications team provide press release and feature article writing of faculty research and awards. In fact, faculty who are featured in the institute's award- winning Interface magazine often benefit from the visibility, citing positive feedback and interest in their work from colleagues and potential collaborators. CALIT2 staff also provide purchasing, human resources, travel and other reimbursement processing, issuance of access cards and keys, computer server management, small-cap requests for design and construction of new labs and facilities, computer troubleshooting and support, event planning, marketing, recharge processing, invoicing, financial oversight, and facility space assignments and rental.
Research Instrumentation Proposals
Other research avenues for faculty engagement include leveraging CALIT2 lab space and matching fund support to secure large federally funded research instrumentation awards. In recent years, several professors – Peter Burke, Lizhi Sun, Lorenzo Valdevit, John Hemminger, Alon Gorodetsky – have equipped first-floor labs in the building with a new microwave-assisted patch clamping scope, a NanoCT, a Vibrometer, an XPS and a CVD system, bringing unprecedented capabilities for campus researchers.
CALIT2 technical professionals provide hosting support in the building's third- and fourth-floor server rooms for faculty to house research servers and/or utilize the building's high-speed fiber optics. There are two 900-square-foot server rooms housing over 100 servers connected by 10-gigabits-per-second fiber to the UCI campus backbone and LightPath network. In the near future, the connection will be increased to 40 gigabits per second, and a new Arista 7280R switch capable of a 100-gigabits-per-second connection will be installed. The switch will connect the Data ThinkTank workstations to the FIONA Data Transfer Nodes by 10-gigabits-per-second direct fiber links.
Public and Internal Events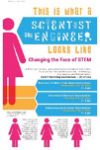 CALIT2 staff assist faculty who are organizing various technical workshops, such as the International Biomedical Symposium, the Microbiome Symposium, energy efficiency workshops, etc. with collaborative opportunities on and off campus. Outreach events, and lab demonstrations and tours engage faculty by highlighting their latest emerging research and development trends in the information and communication industries. In addition, in collaboration with UCI's Office of Inclusive Excellence, CALIT2 promotes the STEM field for under-represented populations and women by engaging faculty and students in quarterly events.
Yet another way that faculty become involved in CALIT2 is by serving on one of several institute advisory groups. The Division Council is comprised of a diverse group of UCI faculty, who guide the director to lead CALIT2 in a manner that reflects the institute's intellectual and research goals. The council provides advice on a wide variety of topics, including programmatic direction and operation of the facility. Faculty may serve as oversight committee members for the clean rooms or materials characterization facilities, providing operational guidance. UCI faculty also serve on the CalPlug Advisory Board and TechPortal Oversight Committee. Both of these groups include non-UCI participants as well. The former provides guidance for research activities in the CalPlug center; the latter reviews applicants to the TechPortal incubator.