Intelligent systems – smart phones, smart materials, smart cars and smart homes – are all part of the IoT revolution. A longtime leader in the IoT movement, CALIT2 focuses its multidisciplinary expertise in core research areas with an emphasis on the end user. The institute doesn't develop technology for the sake of developing it, instead CALIT2's strength has always been developing technology solutions for empowering people. When President Barak Obama launched the Advanced Manufacturing Partnership in 2011 to help the U.S. regain its global leadership position, Director G.P. Li saw it as an opportunity to apply CALIT2's IoT expertise to a worker-centric approach. CALIT2 initiated the Sustainable Manufacturing Alliance for Research and Training (SMART), with the vision of empowering skilled workers to have greater autonomy and decision-making responsibilities – resulting in not only a more satisfied, masterful workforce, but also plants and factories that are more energy-efficient, productive and safer.
CESMII (the Clean Energy Smart Manufacturing Innovation Institute)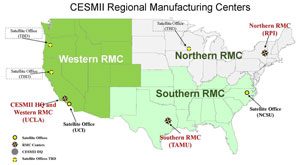 In 2016, the U.S. Department of Energy established CESMII (the Clean Energy Smart Manufacturing Innovation Institute) to explore how emerging technologies might deliver smart manufacturing solutions. A year later, UCI's CALIT2 was designated as the CESMII Southern California Regional Demonstration Center, and recently CESMII awarded $2.1 million to CALIT2 to develop the Smart Connected Workers program. The program will develop affordable, scalable, accessible and portable smart manufacturing systems that will help companies gain insight into their energy footprints and workflow activities. These data can lead to optimization and dynamic scheduling of equipment to help reduce energy costs.
Of the more than 250,000 U.S. companies in the manufacturing sector, less than 4,000 have more than 500 employees, while three-quarters of them have fewer than 20 employees. Most of these companies lack financial resources to incorporate sophisticated, advanced automation and control that could give them a competitive edge.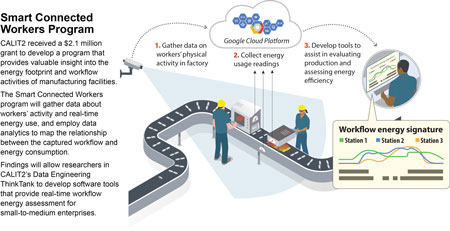 The Smart Connected Worker team is made up of nine UCI faculty and researchers who will join with industrial partners, including Atollogy, Aerospace Corp., Honeywell, General Mills, Southern California Edison, Google, San Diego Supercomputing Center, and university partners UCLA and CSU Northridge.