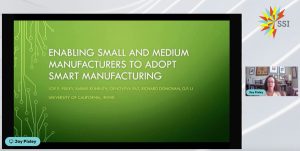 July 20, 2021
U.S. industry accounts for more than 25 percent of the nation's greenhouse gas emissions. In order to meet climate goals, industry must decarbonize.
How do we decarbonize industry?
This was the challenging and crucial question posed to attendees at the 2021 Summer Study on Energy Efficiency in Industry. The 14th biennial conference, hosted by the American Council for an Energy-Efficient Economy (ACEEE), was held virtually, July 12-15, 2021.
Attendees had the opportunity to virtually meet and network with leaders in the energy industry. Interactive sessions allowed participants to discuss cutting-edge topics with authors of more than four dozen research reports published for the event.
Joy Pixley, CalPlug research director, presented as part of a panel session titled, "How Agile Manufacturing Is Helping Small and Medium Manufacturers Become Resilient." The session focused on the movement toward resilient manufacturing and supply chains and how being agile can improve a company's performance. A video of Pixley's presentation, "Enabling Small and Medium Manufacturers to Adopt Smart Manufacturing," can be viewed here.
Other topics included: sustainable supply chains; low-carbon steel and low-carbon fuels; strategic energy management (SEM); corporate sustainability policies; electrification; decarbonized hydrogen; onsite energy generation; the grid of the future; and carbon capture, utilization, and storage. New to the ACEEE conference was a discussion about the pollution and employment impacts of manufacturing on disadvantaged communities, where factories are disproportionately located, and how decarbonization can help address such inequities.
ACEEE is a nonprofit research organization that develops policies to reduce energy waste and combat climate change.
For more information about ACEEE, visit https://www.aceee.org/about-us.
– Sharon Henry